Lethal gas poisoned Whitby harbour fishermen pair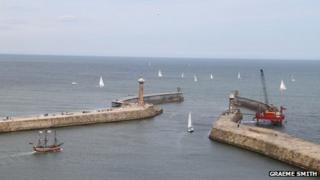 Two fishermen who died in their bunks on a vessel in Whitby harbour were poisoned by carbon monoxide, initial report findings have indicated.
Mark Arries, 26, from Blyth, Northumberland and Edward Ide, 21, from Amble, also in Northumberland, were resting in the scallop dredger Eshcol.
The men had lit the grill of a butane gas cooker fitted in the wheelhouse to warm the sleeping area.
The Marine Accident Investigation Branch said a full report would follow.
'Full of fumes'
Mr Arries was a father of two and Mr Ide had a four-month-old son.
The men were discovered on 15 January and were pronounced dead at the scene by paramedics.
The initial report said when the pair were not seen in the morning, crewmen from nearby fishing vessels forced open the wheelhouse door.
"The gas grill was still lit and the wheelhouse was full of fumes. The two men were dead in their bunks. Eshcol was not fitted with a carbon monoxide alarm", it added.
The Marine Accident Investigation Branch said gas cookers were designed for cooking, not domestic heating and that cookers needed to be checked and maintained regularly.
It stressed carbon monoxide was a lethal gas that was difficult to detect and crews needed to be vigilant to recognise the first signs of poisoning.
The safety bulletin said carbon monoxide alarms should be fitted.