Victory over York Barbican disabled ticket policy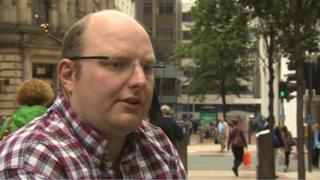 A disabled man has won a bid to end what he called "discriminatory" theatre ticket policies.
The York Barbican told Doug Paulley, from Wetherby, he would need to purchase two full price tickets for himself and his carer.
The venue's management agreed to amend the policy before a court hearing due to be held at Harrogate on 5 February.
It said in future the total price for a visitor and carer would be equal to one full price ticket.
Mr Paulley, 35, said: "I brought this case on behalf of eight of us from our care home who were shocked to find that we were to be charged double to attend the Barbican just because we were disabled.
"We have no choice but to rely upon carers, who we have to pay to help anyway. I felt very strongly that this kind of policy essentially kept disabled people away from social venues, and that something had to be done."
Unity Law, which represented Mr Paulley, said the venue's operator, SMG Europe, had agreed to amend its policy the evening before the case was due to be heard at Harrogate County Court.
SMG Europe said it had worked hard with Mr Paulley to find a solution.
In a statement the company said: "We are committed to ensuring that access and enjoyment of all events is available to everyone.
"As such we have clarified the policy to remove this anomaly so that the combined total price for a visitor and carer will be equal to the cost of one full priced ticket."