York College fined £175,000 over girl's nursery death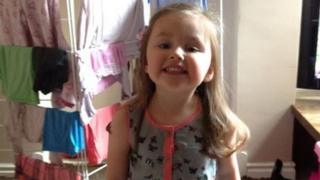 A college has been fined £175,000 for health and safety breaches in relation to the death of a three-year-old girl.
Lydia Bishop died when her neck became caught in a rope on an outdoor slide in 2012 at York College's nursery.
The college denied the charges, but was convicted last week of failing to ensure children's safety between August and September 2012.
Nursery worker Sophee Redhead, 25, from York, was cleared of manslaughter by gross negligence.
The college operated the nursery for the children of staff and students and members of the public. The nursery has since closed.
'Simply wrong'
The trial at Leeds Crown Court heard Lydia died on her first full day at the college nursery.
A rope intended for children to pull themselves up to the top of the slide became entangled around her neck and she lay for 20 minutes before being found.
Lydia had bypassed a wooden bench and a plastic trolley used by staff to block access to the slide.
The rope was supposed to have been removed at the end of every supervised play session by nursery staff.
In his sentencing, Mr Justice Coulson was highly critical of North Yorkshire Police, who released a "wholly inaccurate" statement about safety arrangements at the nursery.
He said a statement about how long the rope had been left on the slide was "simply wrong".
Lydia's mother Rebecca Dick had just enrolled on a course at the college and had been for introductory sessions with her daughter.
The jury was told Ms Dick had been assured children were not left alone outside to play on the apparatus.
'Fatal mistakes'
Alison Birkinshaw, principal and chief executive of York College, said in statement the college remained "deeply saddened" by what had happened.
She added: "Nothing can reduce the pain felt by Lydia's family and we are truly sorry for what has happened. Lydia and her family will be forever in our thoughts.
"We remain committed to learning from these tragic events and took the difficult decision to close the nursery permanently immediately after the tragedy."
In sentencing, Mr Justice Coulson paid tribute to Lydia's family saying they had behaved throughout the trial with "dignity and restraint".
In a statement, Ms Dick and Lydia's father Brad Bishop said: "For the last 17 months we felt terribly let down that throughout the process, no one had accepted any responsibility for what happened to Lydia, which has made it even harder to deal with.
"It is obvious that fatal mistakes were made, both on that day and in the weeks and months leading up to it, and that Lydia was not properly cared for.
"We are disappointed that it is not until the jury reached their verdict that the college have finally admitted their failings and we acknowledge that they have finally apologised through their statement to the press."
The college was also ordered to pay £45,000 in costs.