Fine after North Yorkshire farm worker crushed by bales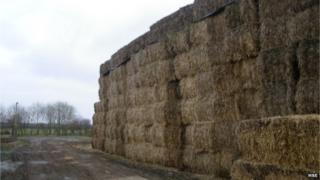 A farm worker has described how his life has been "totally destroyed" after he was crushed by hay bales.
Paul Teale, 40, from Easingwold, North Yorkshire, was trying to remove a bale from a 23ft (7m) high haystack when two of them fell on him in November 2012.
He was left permanently disabled as a result of the accident.
Pockmor Ltd, of Driffield, East Yorkshire, which operated the farm, was fined £16,000 after admitting health and safety breaches.
Mr Teale worked part time at Pilmoor Grange Farm and one of his jobs was to replace the straw bedding in the pig sheds.
He was using a loader, which had no cage to protect against falling objects, when the accident happened.
An investigation by the Health and Safety Executive (HSE) found the system of work used to remove bales from the stack was "inherently unsafe".
Mr Teale had to have a spinal cage inserted and has suffered a series of minor heart attacks.
In his victim impact statement he said: "Physically, the accident has totally destroyed me.
"I am currently the best I will ever be and the doctors have said I could still be paralysed at any time in my life by any kind of impact injury.
"I do not have a life any more, it is just an existence. I cannot stand for long periods. I cannot do physical work."
Geoff Fletcher, from the HSE, said: "This was a preventable incident that has had a permanent life-changing impact on a previously fit and hard-working man."
The company was also ordered to pay £4,500 in costs at York Crown Court.