North Yorkshire sinkhole family still not able to go home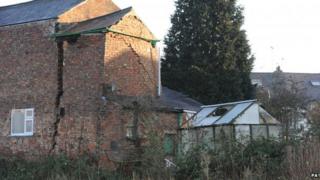 The residents of a house in Ripon, North Yorkshire which was damaged when a sinkhole opened have not been able to return home.
Three homes had to be evacuated after the 25ft-wide (7.5m) hole appeared last Monday.
Harrogate Borough Council said the house remained sealed off and a technical specialist was assessing the damage to the property.
People living in the two other evacuated houses have returned home.
Nobody was hurt in the incident, although firefighters had to rescue a dog from the damaged 100-year-old detached house.
The British Geological Survey has confirmed Ripon lies in one of the most susceptible areas of the UK for sinkholes, because of its "Permian gypsum deposits", which can dissolve more quickly than surrounding limestone
The council said it would await recommendations from the building specialist before deciding what to do with the property.
In a statement it said: "The immediate danger to the public has been removed and the situation is now under control and whilst this is very upsetting for the residents concerned, thankfully no one has been injured in this incident."