North Yorkshire war veteran's novel nominated for romance award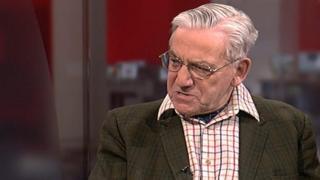 A North Yorkshire author who served in the RAF's Bomber Command during World War Two has been shortlisted for a literary award.
Bill Spence, 90, who writes under the pen name of Jessica Blair, has been nominated for a prize at the Romantic Novelists' Association Awards.
If he is successful he will be the first male writer to claim the award.
As well as his romantic novels, Mr Spence has also penned Westerns and non-fiction work.
He said he adopted the pseudonym of Jessica Blair at the insistence of his publisher when he wrote his first romance, The Red Shawl, in 1993.
Since then he has written 23 books, mostly set in 19th Century Yorkshire.
'Bomb aimer'
Mr Spence said he was one of a select band of men writing this type of novel and that many people found the term romantic fiction off-putting.
"That immediately conjures up fluffy," he said.
"The word romance is fine, it's great, but these sort of books are really about relationships."
He lives in the village of Ampleforth near York.
The outbreak of World War Two disrupted his training to be a teacher.
"Teaching courses were cut down," he said.
"We could only finish if we did some military training.
"I went into Bomber Command and I was a bomb aimer in Lancasters and did 36 operations."