Great Yorkshire Show dairy cow 'cheating' case closed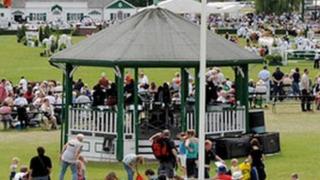 An inquiry into claims of cheating by exhibitors at the Great Yorkshire Show has ended after the suspects agreed not to show animals at the event again.
The Yorkshire Agricultural Society (YAS) said tests on two dairy cattle suggested a "substance" that breached its rules had been used.
It would not confirm what the substance was but said it was used to improve the appearance of animals at the 2013 show.
The society said the exhibitors had dropped an appeal against the inquiry.
'Animal welfare'
Bill Cowling, honorary show director said: "We are committed to ensuring that competitors taking part in our events comply with our rules regarding tampering with animals to enhance animals' appearance in the show rings.
"For a number of years here at the Great Yorkshire Show we have carried out random scanning of animals and this will continue.
"Any suspicion of contravention will be investigated.
"Our industry is too precious to be undermined by those whose intention is to win at any cost, and with no concern for animal welfare. We are delighted to have the support of the breed societies."
In July 2013 Mr Cowling said: "I don't want to disclose the exact thing we are investigating but it is something which would give the exhibitors an advantage by falsifying the appearance of the animal. Basically it is cheating.
"The samples have been taken from the animals, which will be analysed. It is something that takes days or weeks rather than hours so the investigation is ongoing."
Mr Cowling said anyone found to have used such a substance would be stripped of any prize money and might be barred from future events and competitions.
More than 8,000 animals participate in competitions at the three-day show in Harrogate which attracts around 130,000 visitors.