Exhibition showcases Yorkshire art through the ages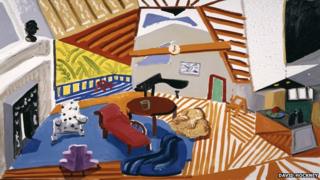 A new exhibition reflecting Yorkshire's influence on art has opened at a Harrogate gallery as part of the Tour de France cultural festival.
The show at the Mercer Gallery features more than 100 paintings, photographs and sculptures, including work by JMW Turner and David Hockney.
The artworks range from 19th Century landscapes to more urban images.
The £2m cultural festival marks the opening stages of the Tour de France being held in Yorkshire in July.
The exhibition's curator, Jane Sellars, said the work on display reflected her personal tastes.
'Wild skies'
"I've worked with art in Yorkshire for a long time and in all sorts of different ways," she said.
"It's inevitable that I am drawn to certain subjects, the moors around Haworth, for example, with those wild skies."
Turner toured Yorkshire in 1797 and Ms Sellars said the landscape "moved him to tears" and had a major influence on his work.
Other artists included in the exhibition include pioneering photographer Frank Meadow Sutcliffe and Victorian artist John Atkinson Grimshaw.
The Tour's Grand Depart takes place in Leeds on 5 July before the cyclists spend two days racing through places like Harrogate, York and Sheffield.