Scarborough Hospital fee rise causes car parking row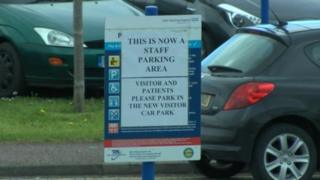 People living near Scarborough Hospital are complaining that workers are parking in their streets following a rise in fees for the staff car park.
The NHS trust has doubled the daily parking fee from 50p to £1.
Some local residents claim they now find it difficult to park outside their own homes.
York Teaching Hospital NHS Foundation Trust said the council and police were considering introducing parking restrictions in nearby streets.
The trust said the rise in parking fees was part of a "phased increase" to bring Scarborough Hospital in line with the charge levied at the staff car park at its York Hospital, which is currently £2 per day.
Tracey White, branch secretary for the union Unison, claimed that some hospital workers were unable to afford the increase.
'Ongoing discussions'
"A lot of staff have handed in their passes already," she said.
"A staff member on a low a wage will lose almost a full month's salary per year - people just haven't got the money."
One resident Shelly Rigby said she was no longer able to park her company van outside her home.
"It stresses you out that you are having hassles with people, when you say 'please don't park here' and they just turn round and say 'there is nothing here to say I cannot park'," she said.
"I've been to the police and they turn round and say they've got the right to park where they want."
The NHS trust said: "We are aware of ongoing discussions between residents, the police and the local authority with regard to restricting parking on the streets surrounding the hospital."