Thirsk Todd Waste Management fire still alight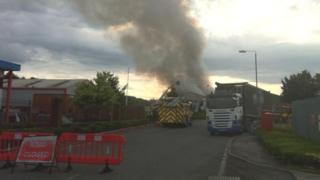 A fire at a recycling centre in North Yorkshire is still alight more than 24 hours after it started.
At its height, about 40 firefighters were tackling the blaze at Todd Waste Management in Thirsk, which began on Monday morning.
Two fire engines remain on site and flames can still be seen from the adjacent A19, the fire service said.
There is not thought to have been anything toxic on the site, which holds 150 tonnes of household rubbish.
It is not yet known how the fire started.
A previous fire at the site in May 2011 caused "significant" damage and was started as a result of spontaneous combustion.
Local businessman Roger Etherington told BBC Radio York: "It does make you wonder what people are throwing away if it keeps bursting into flames.
"It seems as though there's very little Todd's could do about it because they don't have any control over what people will put in there."