Yorkshire showground £10m exhibition hall plan approved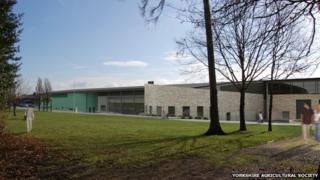 A new £10m exhibition hall is to be built at the Great Yorkshire Showground in Harrogate.
Council planners have approved the replacement of an existing hall built in the 1960s.
The Yorkshire Agricultural Society (YAS), which owns the showground, said the new hall would offer additional exhibition space.
The society added construction on the new building is expected to begin in the late summer of 2015.
Heather Parry, deputy chief executive of the YAS, said: "Hall 1 was expected to last for 20 years so it has been a good Yorkshire investment. Unfortunately it is now deteriorating so we need to replace it.
"Today's visitors expect higher standards and better facilities than those of 50 years ago so we are adding a large foyer area, a café and improved toilet facilities."
The Harrogate showground hosts the three-day Yorkshire Show each July and conferences, exhibitions and other agricultural events throughout the year.