City of York Council leader defends Lendal Bridge fine refund policy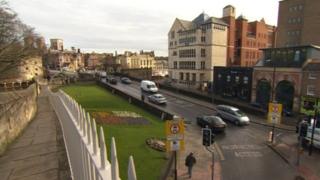 A move to refund motorists fined for flouting restrictions on York's Lendal Bridge only if they ask for a rebate has been defended by a council leader.
City of York Council leader James Alexander also said media coverage would allay concerns that some drivers might not be aware of the offer.
About 56,000 fines totalling more than £1.3m were issued during a trial to tackle congestion.
However, a traffic adjudicator said the council had "no power" to issue fines.
Councillor David Levene, the Labour council's cabinet member for transport, announced on Friday all fines would be refunded - but only to those who submitted a request to the council.
'Gesture of goodwill'
Fines were issued while restrictions banning general traffic from using the bridge between 10:30 and 17:00 were in place from August 2013 to April.
The money from the fines has not been spent, Mr Alexander said. But he said administration costs totalling about 30% of the revenue generated would have to be met if all fines were refunded.
He said: "We think this is the right thing to do as a gesture of goodwill.
"If the adjudicator comes back and says we have to pay back all the fines then, clearly, we would, and there will be a cost, but that is not the situation we are in.
"Because of media organisations talking about this... I think a lot of people will begin to claim that back."
However, Conservative party leader Chris Steward accused the council of trying to "avoid paying out to everybody voluntarily".
He said: "They are trying to go for a middle ground. I do not think anybody will think there's any goodwill at all left in this."