North Yorkshire Police drop new headquarters plan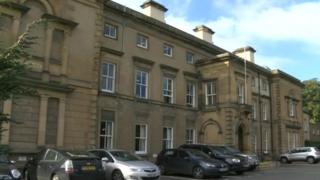 Plans for a new £18m police headquarters in North Yorkshire have been abandoned.
Police and Crime Commissioner Julia Mulligan said the scheme no longer offered value for money.
The force will instead look at sharing some facilities with Cleveland Police, she said.
An 8.4 acre (3.4 hectare) site at South Kilvington, near Thirsk, was intended to replace the current headquarters at Newby Wiske, near Northallerton.
The new building had been expected to save the force around £455,000 a year but abandoning the plan will save it £10m, according to Miss Mulligan.
She said some operations and facilities could be re-located to Cleveland Police's planned Community Safety Hub at Hemlington, on the North Yorkshire border,
North Yorkshire Chief Constable Dave Jones said: "If there is an opportunity for us to secure the right facilities - at a lower price tag - by doing things differently, then we must grasp it with both hands."
Northallerton Police Station, which would have been closed if the new headquarters had been built, will remain open, and its custody suite will now be refurbished.
The current headquarters, a Grade-II listed building, which the force says is not fit for purpose, was to have been sold as part of the project. Miss Mulligan said options for its future would be considered in the next few months.