Galtres Festival organisers 'owe £120,000' to traders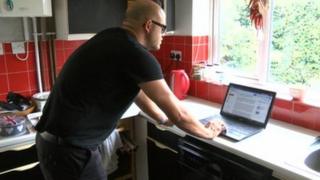 Stallholders at a summer music festival claim they are owed up to £120,000 by the organisers who stopped trading.
Some are worried they will go out of business because of money lost at the Galtres Festival, in Helmsley, North Yorkshire.
Suzi Aimley, a festival stallholder, said: "They've got our money".
But organisers Galtres Festival Trading Ltd, which ceased trading on 11 September, said it intended to pay "all suppliers in full".
The music and food event featured artists including The Human League.
'Money we earned'
Despite the problems, event organiser James Houston, wrote online that plans for a 2015 festival were "well under way".
Mr Houston said: "There's no reason to put the brakes on a future festival, because this particular one hasn't worked."
Ms Aimley, of The Pickled Porker in York, said she had been in contact with more than 30 traders and had estimated £120,000 was owed by festival organisers.
She said her artisan cider house and eatery lost out on a "devastating" £3,600.
She said: "It was never the organiser's revenue. Without consent they have retained the money we earned."
An electronic payment system was used at the festival and traders were supposed to receive 80% of their takings from the organising company seven days after the event, she said.
No cash could be taken by vendors.
'Deeply sorry'
François Strydon, of the Fat Chef in Helmsley, said his street food stall was owed £3,500 and the loss was "ruinous" to a start-up firm in its first year.
Mr Houston told traders in an email the organising company did not have sufficient assets to meet its liabilities.
"We are deeply sorry that this situation has arisen", he said.
The festival had not had enough visitors, the financial picture was "extremely depressing" and traders would "inevitably feel very cross" he added.
However Jane Johnson, a trustee, said: "It's our firm intention to pay all suppliers in full at the earliest opportunity."