Askham Bryan College in wandering York wallaby appeal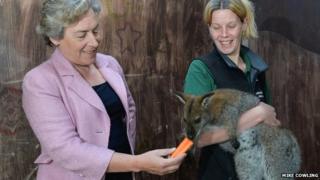 A college has appealed for the owners of a wallaby that caused a major road in York to be closed to come forward.
The errant marsupial was captured by police using a tranquiliser dart on Thursday night and is being cared for at Askham Bryan College.
It said it was happy to keep the animal, which is in good health, if no-one came forward to claim him.
The wallaby, named Wesley by the college, was initially reported as being loose in the city on Tuesday.
'Animal family'
The RSPCA had advised North Yorkshire police to allow it to roam free as it appeared to be uninjured.
However, on Thursday evening Wesley was spotted near York's outer ring road.
Police then closed a section of the A1237 between Strensall and Haxby to avoid the risk of an accident.
It took about two hours for officers to capture Wesley.
Liz Philip, principal of the college, which specialises in land-based studies, said: "He's a male wallaby, about a year old we think, and whilst we're very happy to look after him, it would be super to reunite him with his owners.
"If his owner can't be traced, then he will have a home with us and join our 'animal family', but in the short term, the important thing is that he settles in and recovers well."