York Theatre Royal launches appeal for refurbishment cash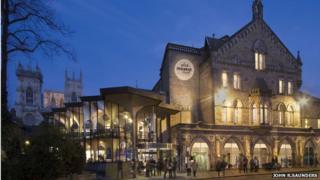 York Theatre Royal has launched a £500,000 fundraising appeal to reach its target for a £4.1m redevelopment.
The refurbishment will include a new entrance, glazed foyer, improved seating and result in better views of the stage and improved accessibility.
The Arts Council, York City Council, and trusts and foundations in the city have already donated £3.6m.
A theatre has been on the site, at St Leonard's Place near the Minster, since 1744.
Oldest claim
Penelope Worsley of York Theatre Royal said people in the city were being asked for the money "to give people ownership" of their theatre.
She said the redevelopment was important in raising its profile.
York Art Gallery and Exhibition Square close by are being refurbished and the Theatre Royal "must not be left behind", she said.
The refurbishment will form the most significant changes to the building since Patrick Gwynne's 1967 extension.
Ms Worsley claims the theatre is the "oldest continuously working theatre in the country outside London", and that its redevelopment will change the whole feel for the community.
The colonnade, which is currently outside the building, is to be glazed in to create a spacious main entrance.
The staircase will be opened up so that audiences can reach the auditorium from both sides, and seating in the stalls will be re-tiered to improve the view for the audience.
The theatre is scheduled to close on 17 March and is expected to reopen in time for December's pantomime.