Dafydd Williams elected as City of York Council leader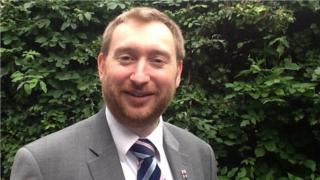 Labour councillor Dafydd Williams has been elected as the new leader of the City of York Council.
Mr Williams, 36, was named leader of the Labour group at the end of November following the resignation of James Alexander.
Mr Alexander, who was leader of the authority for three-and-a-half years, said he had stepped down to "pursue a new career".
Mr William's said he would freeze council tax next year.
Addressing council members, the new leader promised to offer refunds to all drivers fined for crossing Lendal Bridge during a trial closure to tackle congestion.
About 56,000 fines totalling more than £1.3m were issued during the trial from August last year to April.
A traffic adjudicator said the council had "no power" to issue fines because signage and CCTV were inadequate.
The Labour Party has the most seats on the unitary authority but does not have a majority.
Labour took control of the council in 2011 after winning 26 of 47 seats but since then five members have quit the party wiping out its majority.
City of York Council
Labour: 21 seats
Conservatives: 10 seats
Liberal Democrats: Nine seats
Independents: Three seats
Greens: Two seats
Labour Independents: Two seats