Scarborough's fancy dress swimmers brave North Sea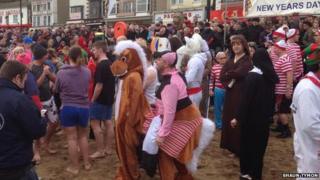 More than 100 people in fancy dress have taken to the North Sea off Scarborough to raise money for charity.
Organiser Alan Deacon described weather conditions for the dip in the town's South Bay as "mild".
He said dippers' costumes included the Muppets' Miss Piggy and even Eurovision Song Contest winner Conchita.
The Scarborough Lions Club event is in its 22nd year. The participants raise money for their chosen charities with 25% donated to the Lions.
Mr Deacon said the dip would be back in 2016 as it was a major fundraiser for the club and was "growing every year".