Three men rescued from Gaping Gill pothole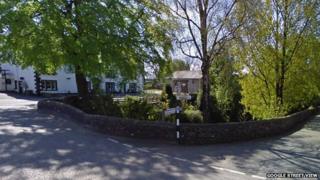 Three men who were stranded in a pothole have been brought safely to the surface by the Cave Rescue Organisation (CRO).
The three cavers - aged 59, 52 and 32 - were reported overdue on a trip down Gaping Gill, close to the village of Clapham in North Yorkshire.
The volunteer search party found the men near the Horrocks Stearn crawl on Sunday, the CRO said.
They were taken to Clapham, where the rescuers are based.
The CRO provides the cave and mountain rescue service in the three peaks area of the Yorkshire Dales National Park.
Gaping Gill pothole has a network of tunnels at the bottom of a large crater on the limestone moors near Ingleborough.
The main shaft is about 365 feet (111m) deep.
Ingleborough, together with Whernside and Penyghent, are the three peaks after which the area is named.