Bootham Park Hospital in York 'unsafe' say inspectors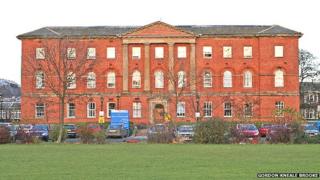 An MP has called for an 18th Century psychiatric hospital in York to be closed after inspectors said it was "unsuitable and unsafe for patients".
Services at the city's Bootham Park Hospital "required improvement", said a Care Quality Commission (CQC) report.
Hugh Bayley, the Labour MP for York Central, said problems at the hospital were "very, very serious" and urged the government to fund a new hospital.
Hospital bosses said they were taking action to improve services.
Chris Butler, chief executive of Leeds and York Partnership NHS Foundation Trust, said: "We take the issues raised about the suitability of Bootham Park Hospital in York very seriously.
"We have been working hard with our partners to take immediate action to address them."
'Not fit for purpose'
He said the measures included a £2.7m scheme to refurbish the three inpatient wards which would be completed later this year.
"The report highlights the historical underdevelopment and underinvestment in mental health services in York," added Mr Butler.
The CQC, which inspected the hospital in September and October, said: "We found the design and layout of premises at Bootham Park Hospital was unsuitable and unsafe for patients. The trust was working with commissioners of services to relocate these wards.
"We found the seclusion room was not fit for purpose and following our visit the trust informed us they had closed the seclusion suite with immediate effect."
It said there was a reliance on agency staff and the way they were used "did not ensure that people's safety was always protected".
Mr Bayley said: "Bootham Park Hospital was designed more than 200 years ago. It is entirely unsuitable for the good quality care of patients today.
"There have been some serious failures of care.
"I have been urging the Secretary of State not just to commit to funding for providing a new acute mental health hospital in York but to set a timetable for doing so.
"This would allow the brilliant, caring and capable staff to move their services to an environment with facilities that are suitable for people with mental health problems."