York Minster candles mark Holocaust Memorial Day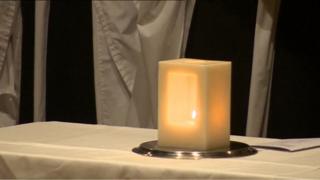 A survivor of the Holocaust has lit a candle in York Minster to mark Holocaust Memorial Day.
Edith Jayne, a World War 2 Jewish refugee, lit the candle during Choral Evensong which began an evening of reflection at the cathedral.
Born in Vienna in 1936 to a Jewish father and Roman Catholic mother, Mrs Jayne and the family later fled Austria.
The service featured a number of readings and prayers interspersed with silence for quiet reflection.
The Rev Canon Dr Christopher Collingwood, Canon Chancellor at York Minster, said: "It is vital that we remember and reflect upon the horrors of the past, and honour those who survived."