Scarborough sexual abuse charity seeks Savile funds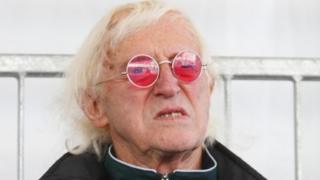 A charity which helps victims of sexual abuse in North Yorkshire is applying for funds from a trust set up by disgraced entertainer Jimmy Savile.
Scarborough-based Healing Our Past Experiences (HOPE) is seeking a grant from the Jimmy Savile Charitable Trust.
The trust has more than £3.5m, most of which came from public donations.
Last month it lost an appeal against a ruling establishing a compensation scheme for the victims of Savile's sexual abuse.
HOPE's founder Pauline Carruthers said she had consulted with clients and workers before making the approach for funding. She said nearly everybody was in favour.
"The majority of people said 'money is money'," said Ms Carruthers
"Some said it is our way of putting a finger up to him after what he did."
If the bid is successful, the money will go towards the organisation's £200,000 per year operating costs.
Ms Carruthers said HOPE had seen the number of people approaching it for help almost double over the last four years in the wake of investigations into abuse claims against Savile and former Scarborough mayor Peter Jaconelli.
She said 19 people had contacted them since the start of the year.
The Jimmy Savile Charitable Trust was closed in 2012, shortly after the revelations about Savile's abuse came to public attention, and declared its funds would be distributed to other charities.
According to accounts filed with the Charity Commission in March 2013 it had £3,609,906.
In a case heard at the Court of Appeal in December, the trust argued against an agreement between Savile's estate, the BBC, the NHS, the charity Barnardo's and lawyers acting for alleged victims.
The trust, a beneficiary of Savile's estate, said the scheme would be susceptible to fake claims and lawyers' fees.
Savile, a DJ and TV presenter, died aged 84 in October 2011, a year before the allegations he had sexually abused children emerged.
A joint review by the Metropolitan Police and the NSPCC, published in January 2013, said Savile was responsible for 214 criminal offences, including 34 rapes, across the UK between 1955 and 2009.