Yorkshire tourism to get £3.5m boost to create 2,500 jobs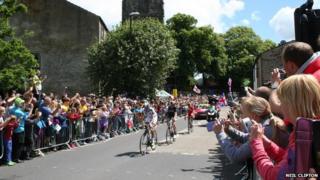 The Chancellor George Osborne has promised to create 2,500 new tourism jobs in Yorkshire by 2020.
He said £3.5m of Treasury cash would be spent supporting cultural events across Yorkshire.
Beneficiaries include the Yorkshire Dales National Park, tourism body Welcome to Yorkshire and Hull's City of Culture 2017 team.
Mr Osborne said he was "absolutely committed" to the rural economy and rural jobs.
He said the schemes were all designed to meet a government objective of increasing the number of overseas visitors to Yorkshire by 25% by 2020 and to cement the region as the home of cycling in Britain.
"We are making real commitments to back campaigns to promote tourism to get make sure we get a real legacy off the Tour de France last year," he said.
Schemes to benefit from funding include:
£1m for tourism body Welcome to Yorkshire to put on a cultural festival in 2016. The event would be similar to the one held alongside the Tour de France in 2014.
£450,000 investment to transform a section of the Leeds and Liverpool Canal, centred around Skipton, helping to improve access to the Yorkshire Dales for cyclists.
£1.5m to refurbish the Ferens Gallery in Hull and to support Hull's aspiration to host the Turner Prize as part of the UK City of Culture programme in 2017.
A further fund of £500,000 to support a rural marketing campaign aimed at bringing international tourists to Yorkshire.
The Labour leader of City of Hull Council, Stephen Brady, welcomed the funding.
"It will help us send a clear message to institutions like the Tate, the Royal Collection and the National Gallery that Hull is ready to host the world's most sought-after exhibitions in 2017 and beyond."