York's traffic congestion to be tackled by new body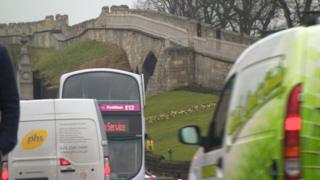 Plans to set up a commission to investigate traffic congestion in York city centre have been approved.
The cross-party body is to look into how traffic could move better, said the City of York Council.
Terry Hill, who worked on the Channel Tunnel rail link, is proposed as its independent chairman.
A previous council attempt to cut congestion by banning motorists from using Lendal Bridge across the River Ouse was abandoned last year.
Poor air quality
York has a park-and-ride network used by more than four million passengers a year, a relatively high proportion of people who walk (12%) and cycle (7%) to work and 28% of tourists arrive by rail, according to council figures.
However, the heavily-visited, medieval city-centre has led to traffic congestion that has slowed journey times and led to poor air quality, the council said.
Councillor David Levene, cabinet member for transport, said: "Doing nothing is not an option.
"Through the commission we'll be learning from best practice across the country and Europe to engage with residents and businesses in the city."
The commission was approved by the council's cabinet and its report is expected to cost about £135,000 and be finished by October 2015.
During a trial closure of Lendal Bridge from August 2013 to April 2014 to tackle congestion, general traffic was banned from using the bridge between 10:30 and 17:00.
About 47,000 fines totalling more than £1.3m were issued but the drivers have since been told they can claim refunds.