Skipton man's Dinky toy collection could fetch £250,000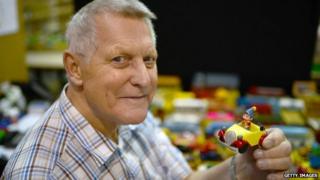 A Dinky toy collection of around 2,000 cars and trains is to be auctioned off by its North Yorkshire owner.
Raymond Hainsworth, 78, from Skipton, has built up his hoard over 50 years.
The collection, which Mr Hainsworth was still trying to add to two weeks before auctioneers arrived, could sell for £250,000.
Among the pick of the toys is a black and white Dinky lorry in the Corn Products livery, which is valued at £5,000.
Another rarity is a French Dinky Baroclem Citreon van, which never went on general sale and could make more than £4,000.
Mr Hainsworth and his wife Pat started collecting when their twin boys Ian and David were babies.
The collection spread from Hornby, to English and French Dinky, Matchbox and Corgi, Triang Minic and Spot-On - among other makes.
Mr Hainsworth, who was born in Bradford, decided to sell up as he wanted to put his entire collection in a single catalogue.
"Part of me is sad of course, but we have had a lot of pleasure from it so I am not upset it is going," he said.
The couple have travelled thousands of miles across the country to build up their collection, visiting auctions and fairs.
Just a fortnight before the auctioneers were coming to collect his toys, Mr Hainsworth was trying to add to the stockpile.
"We wanted a certain Spot On tanker to go in the catalogue and we heard about one for sale in Grimsby," he laughed.
"Unfortunately, when we got there it was not up to our standards so we had to leave it after a 150-mile round trip."
The collection will go on sale at Vectis auction house in Thornaby, Teesside on 17 March.
Auctioneer Andrew Reed said: "It has been built up over the last 50 years and he has such passion for collecting the best of what he could find.
"It's so varied as well, from cars to trains to aeroplanes."