River Ouse fences at Lendal bridge put up after drowning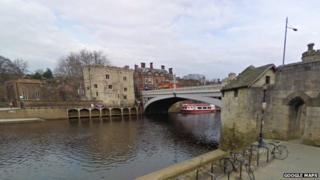 Safety fences are to be put in place along part of the River Ouse in York close to where it is thought a student fell in and drowned.
Megan Roberts, 20, a York St John University student from Wetherby, West Yorkshire, disappeared during a night out drinking in the city.
Miss Roberts and two other young people died in York's rivers in 2014.
The fences are to be installed near Barker Tower beside Lendal Bridge as part of a river safety campaign.
Some of the fences are to cover a set of steps that head down into the river at Barker Tower.
Jackie Roberts, mother of Megan, welcomed the new fencing and said it meant an "awful lot".
She said it was going to prevent the "same accident happening again".
"There's no getting Megan back you can't do anything about that," she added.
Ben Clarkson, 22, drowned in the River Foss in March of that year and in April, soldier Tyler Pearson, 18, drowned in the River Ouse.