Skipton man's toy car collection fetches £227,000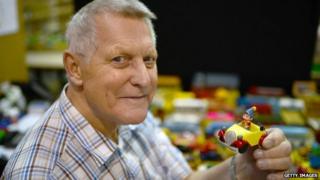 A collection of about 3,000 toy cars and trains has sold at auction for £227,000.
Retired car dealer Raymond Hainsworth, 78, from Skipton, built up his hoard over 50 years and had expected it to sell for up to £250,000.
He said he was now "missing my collection".
The highlight of the auction was a black and white Dinky lorry in the Corn Products livery, which sold for £6,960 including commission.
The collection also included Hornby and Tri-ang toys that were not "play-worn".
Bradford-born Mr Hainsworth and his wife Pat started collecting the toys when their twin sons Ian and David were babies.
He said their first Christmas was spent surrounded by a new train set.
After the sale Mr Hainsworth said: "I'm a bit sad now. It didn't affect me at first but I'm missing my collection now."
Asked what he would do after selling his collection, he said: "We have a big garden so I suppose retired people look after their gardens. We will find something, I'm sure."
"I can look at my collection, sat in a chair without going in the room and having all the trouble of dusting and keeping them clean. They are all in a book to look at."
Mrs Hainsworth, who also loved collecting, felt she had got her house back now the toys were gone.
"The trains were all over and it was like a toy museum," she said. "The O gauge trains were all on the pelmets in every room.
"It's a lot tidier."