Gary Barlow's Calendar Girls musical to premiere in Leeds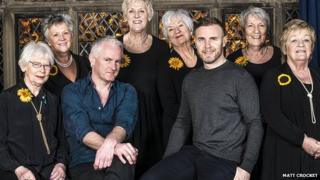 The world premiere of Gary Barlow's musical version of Calendar Girls will be held in Leeds, he has revealed.
The Take That front man made the announcement to the original "calendar girls" at Burnsall Village Hall in North Yorkshire on Sunday.
The musical tells the true story of 11 members of Rylstone Women's Institute, who posed nude for a charity calendar.
"The Girls" will be at Leeds Grand Theatre from Saturday 14 November to Saturday 12 December.
Calendar Girls - also a hit film and stage show - tells the story of 11 women who posed naked behind baked goods and flower arrangements for the 1999 Women's Institute calendar.
They were raising funds to buy a settee for their local hospital, in memory of one of their husbands - John Baker - who died from non-Hodgkins lymphoma in 1998.
Barlow, who has sold more than 50 million records worldwide, and his childhood friend Tim Firth - who won an award for the Calendar Girls film - said they were "over the moon to have received such an ecstatic blessing" from the original models.
The musical project is backed by the tourism agency Welcome to Yorkshire, and money raised will go to leukaemia and lymphoma Research.