Castle Howard to auction £10m of collected treasures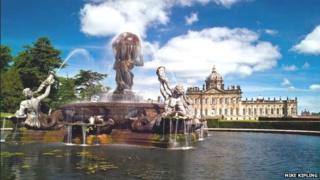 A North Yorkshire stately home is to sell an estimated £10m of its treasures at auction to secure the "long-term future" of the estate.
The Honourable Nicholas Howard said Castle Howard would sell a few "works of great intrinsic value".
They range from Roman antiquities to Old Master paintings and 17th-century Italian furniture.
The house was designed in 1699 and was the setting for the 1981 TV series Brideshead Revisited.
The house sits in an 8,800-acre estate in the Howardian Hills about 15 miles (24km) north of York. The estate has more than 200 listed buildings and monuments.
'Secure that heritage'
Mr Howard, whose family has owned the estate for more than 300 years, said the trustees made a unanimous decision to offer the antiques.
"If the sale helps to secure that heritage as the house moves into its fourth century then it will have achieved its goal."
He said the chosen lots would not detract from the integrity of the house's collection.
The Honourable Simon Howard, who managed the estate before his older brother took charge, said the sale would make an "important contribution to the long-term future of the Castle Howard estate and collections."
Many of the works to be auctioned come from the time of the Grand Tour, a European trip undertaken by 18th-century people of social standing.
Many Italian masterpieces entered Castle Howard's collection after the second Grand Tour of Henry Howard, the fourth Earl of Carlisle, in 1738-39.
During his trip he bought or commissioned over 40 views of Venice by Canaletto, Bellotto and Marieschi.
The works from Castle Howard are to be offered at Sotheby's, London on 8 July.