Scarborough urgent care unit opens to reduce A&E pressure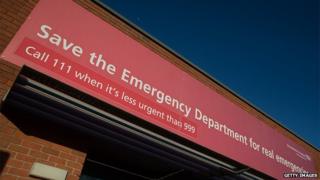 A new 24-hour urgent care centre has been launched in North Yorkshire to replace a closed hospital unit, out of hours GP and walk in service.
The service, covering Scarborough and Ryedale, is for patients who need immediate attention but do not have life-threatening injuries or illnesses.
One centre has been placed in Scarborough Hospital A&E and a second is based at Malton Hospital.
Northern Doctors Urgent Care will run the services.
The new service is designed to cut pressure on Scarborough A&E, which declared a major incident at the start of the year after struggling to cope with an influx of patients and few available beds. It was lifted on 6 January.
Scarborough and Ryedale Clinical Commissioning Group added the new set-up would allow services previously provided separately - the Minor Injuries Unit (MIU) at Malton Hospital, GP out-of-hours service and the walk-in service at Castle Health Centre - to be merged together.
Dr Peter Billingsley, the lead for urgent care at the CCG, said: "Around 3,000 people in the area access urgent care services each month and having one service that covers the whole of Scarborough and Ryedale will ensure that everyone has access to same quality of care, when they need it.
"It will also help to reduce pressure on emergency services by giving people a real alternative for getting minor injuries and illnesses treated rather than dialling 999 or going straight to the emergency department."