Archbishop of York conducts outdoor baptisms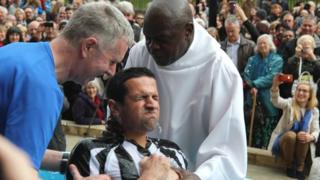 A series of baptisms by the Archbishop of York have been held in a tank of water outside York Minster.
Dr John Sentamu baptised 12 Christians from different denominations.
The candidates, including people from Glasgow and Stockport, were totally immersed in the tank. One Voice York organised the service - now in its ninth year.
Archbishop Sentamu said: " I think they are truly brave, making this commitment in front of the whole city of York."
Graham Hutchinson, of One Voice, said: "These Easter baptisms are always a highlight of my year, as Christians from different denominations come together to welcome new believers into Jesus' family."
The organisation is a network of Christian churches and leaders of different denominations working together in the city.