Nepal quake survivor Roger Strachan 'very lucky'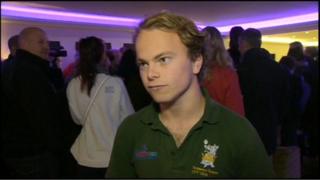 A man from York who survived the Nepal earthquake has said the country must not be "forgotten"
Roger Strachan, 19, was in a restaurant when the earthquake happened on Saturday.
He was one of the first to get off a plane carrying 120 British survivors from Nepal, which landed in the UK in the early hours of Thursday.
Mr Strachan, who had been working as a volunteer teacher, said he felt "very lucky to escape".
"We hid under a table while the building was shaking very violently and cracking," he said.
'Squalid shelters'
The restaurant was in the Nepalese capital, Kathmandu and from there, Mr Strachan made it to a hotel before moving on to the British Embassy.
"It was very terrifying but we have to remember that we're the lucky ones.
"So although I was scared, my main concern was for the people I taught, the Nepali pupils and their families."
He said he hoped to raise money for the communities where he worked in Nepal now that he was home.
"We must remember there are thousands of Nepalese people living in very squalid shelters even at this moment and in a much more threatened position than we were in.
"We need to make sure this isn't forgotten in the news."