Selby bypass shuts for two months for repairs a decade after opening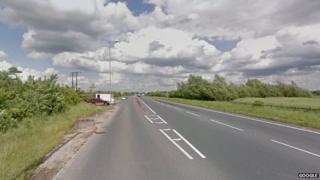 A stretch of road built just over a decade ago is to close for two months for major repairs to its surface.
The A63 Selby bypass, designed to drive heavy goods vehicles away from the town centre, opened in 2004.
But North Yorkshire County Council said the material used to surface the road had failed and "permanent repairs will be lengthy and very costly".
Diversions have been put in place while a section of the road, between the A19 and A1041, remains shut until 17 July.
Campaigners started a petition last year lobbying the council to carry out the repairs, which involves correcting "the lower layers of the road's construction and rebuilding the carriageway".
The Selby Swing Bridge would also be resurfaced, the authority said.
It is not yet known which organisation will be funding the repairs. The council said it was currently in negotiation with the Highways Agency, which was responsible for the construction of the road.
David Bowe, corporate director for North Yorkshire County Council's business and environmental services, said: "The Selby bypass has been in need of structural repair for some time and I know that residents and road users will be relieved when the surface is finally put right.
"I apologise for any inconvenience that may be caused and every attempt will be made to keep this to a minimum."