Selby bypass repairs 'essential' despite traffic delays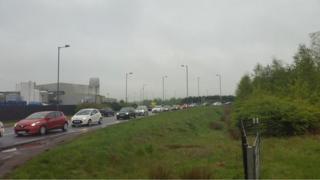 Work to repair a bypass in North Yorkshire is "essential" despite complaints about traffic delays, the county council has said.
A section of the A63 Selby bypass between the A19 and the A1041 was closed at the beginning of May.
Businesses in Selby town centre and commuters have complained of long delays getting in and out of the town.
The county council said disruption during the work - due to last until 17 July - was inevitable.
Andrew Cable, of Cable's Butchers, said the traffic delays were harming trade in the town centre.
"The town is absolutely dead. Today we will be 25% down on our normal take.
"I had to go slightly out of town on Saturday and it took me around an hour to get back in."
'Relieve pressure'
Anne Bolland, who lives outside the town, said her journey into Selby had increased from 15 to 20 minutes to about 90 minutes.
"I can see how shops are suffering [because] I now go to Goole to do my shopping," she said.
"It is just not worth the hassle. The wagons are thundering through. I went yesterday and it was chaos."
Nigel Smith, from North Yorkshire County Council, said residents had urged them to repair the road surface and they were trying to do it as quickly as possible.
"If people can plan their journeys outside the peak periods then clearly that would help relieve the pressure," he said.
"People need to work with us in order to help minimise the impact of what is inevitable disruption during these long-awaited but very essential works."