'Rare' Scarborough silver siege coin sold at London auction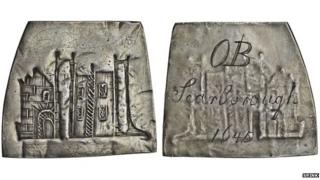 An "extremely rare" siege coin made in Scarborough during the English Civil War has been auctioned off for £15,600.
The silver coin, thought to be a two shilling piece, is just one of four of its kind made in the North Yorkshire town between 1644 and 1645.
It features an image of Scarborough Castle on one side and the town's name on the other.
The coin, which has been bought and sold at auction since 1872, was expected to fetch up to £30,000.
It was sold earlier by auctioneers Spink in London who described the lot as "extremely rare".