E-fit released after York race attack on Spanish couple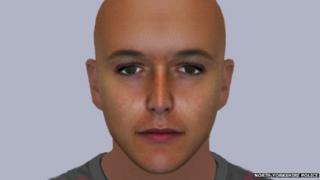 Police investigating a racist attack by a gang of up to six men on a Spanish couple on holiday in York have issued an e-fit of one of the suspects.
The man, 24, and his girlfriend, 29, were assaulted on 5 April after leaving a cafe bar on New Street.
He suffered a broken jaw and chipped teeth in the attack, while the woman was repeatedly pushed to the floor.
Officers said the suspects were white, aged between 20 and 25, with short or shaved hair and had English accents.
The couple were on a night out and had left the Blue Fly Café Bar shortly before the man was punched and kicked for 10 minutes. The attack only ended when a taxi driver intervened.
North Yorkshire Police said the gang had "seemingly targeted the man and woman because they are from a foreign country".
Sgt Adrian Carter said: "Extensive enquiries are ongoing to trace up to six suspects who we believe are from the York area.
"We hope the e-fit will encourage people to come forward with vital information."