North Yorkshire firefighters to attend some medical emergencies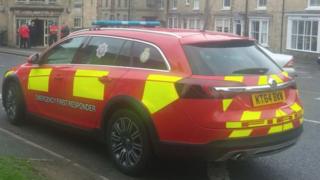 Firefighters are to respond to some medical emergencies as a scheme is officially launched in North Yorkshire.
Volunteers are trained as Emergency First Responders by the Yorkshire Ambulance Service NHS Trust and North Yorkshire Fire and Rescue Service.
They will attend incidents in a marked car to give life-saving care until the arrival of an ambulance.
Covering around Pickering, Lythe and Helmsley the responders may be first to arrive at incidents in the rural area.
The scheme has been formally rolled out after a pilot scheme in North Yorkshire began in December 2015 during which responders have attended about 60 incidents.
They perform basic first aid, resuscitation and oxygen therapy in an emergency.
Owen Hayward from the fire service said it would "deliver real benefits" in medical emergencies.
Paul Stevens, of the ambulance service, said it had to explore "all available options to improve clinical outcomes".