Dangerous wild animal licence granted for Scarborough man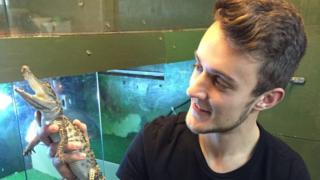 A man has been granted a dangerous wild animal licence to keep more exotic animals at his home in North Yorkshire.
Jordan Woodhead, 21, from Scarborough, already has a python and a snapping turtle in his collection of reptiles.
He has been awarded the licence by Scarborough Borough Council to add an American alligator, a Siamese crocodile and a spectacled caiman.
Mr Woodhead has worked with the RSPCA and independently took in the reptiles that have been injured or mistreated.
He said: "Everyone has their own fascination with things and mine's crocodiles.
"You need a secure environment and as long as you meet the rest of the husbandry requirements you can keep them."
Read live updates on this story and more from across North Yorkshire
He said that as he lived on the outskirts of Scarborough, he had no near neighbours who might have expressed a concern.
A licence from the local authority is required for animals scheduled under the Dangerous Wild Animals Act (1976) to ensure the animal is held securely.
The welfare of the animal is also considered as part of the licensing process.