Injured veterans tackle Malton Roman fort dig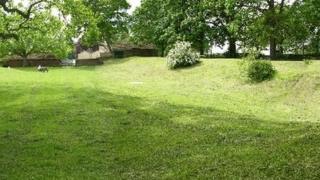 Veterans including some who were injured in Iraq and Afghanistan are taking part in an archaeological dig at the site of an old Roman fort.
The excavation is taking place in Malton, North Yorkshire, as part of a project to help servicemen with physical and mental health problems.
Archaeologists said the dig could reveal important artefacts.
Initial excavations in the area were undertaken in the 1930s, exposing parts of the fort defences.
The project, led by the University of York, will introduce participants to skills including surveying, artefact handling and recording.
It is part of Operation Nightingale, which was set up in 2012 to support veterans, serving military personnel and their families.
'New skills'
Items from the previous dig are housed in the town's museum.
Ann Penso, a former staff sergeant in the US Army who served in Iraq, said: "This project has been fantastic for me.
"It helps me use the skills I acquired in the military with new skills I am learning during fieldwork.
"[It also] reminds me that I'm still useful and that I can still do things regardless of my physical limitations."
Sgt Diarmaid Walshe, the project's manager and a qualified archaeologist, said: "The project helps those taking part rebuild their self-esteem, provide them with a sense of purpose and give them something positive to strive for."
The dig is a joint project between the University of York, the Malton Estate, York St John University, Historic England and the Defence Archaeology Group.