Fracking in North Yorkshire: Appeal lodged by opponents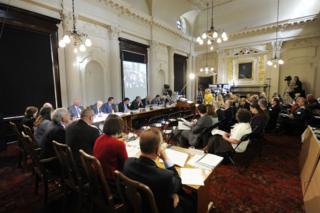 Opponents of a move to allow fracking in North Yorkshire have applied to the High Court for a judicial review.
The decision to proceed with a bid by Third Energy to extract shale gas at a site near Kirby Misperton was agreed by the county council in May.
Friends of the Earth and Frack Free Ryedale claim the "unlawful" decision failed to "properly assess" climate change and future environmental damage.
Third Energy said it was approved after an "extremely thorough investigation".
The environmental group and local residents said North Yorkshire County Council (NYCC) did not consider the impact of burning gas extracted to create electricity at a nearby power station in Knapton.
It also failed to secure long-term financial protection against damage to the environment, they claim.
Fracking is the process of drilling down into the earth before a high-pressure water mixture is directed at rock to release the gas inside.
Opponents say it can cause water contamination, earthquakes and noise and traffic pollution.
At a planning committee meeting in Northallerton, with hundreds of protesters listening outside, councillors voted seven to four in favour of the application.
The decision permits Third Energy to frack for shale gas using an existing two-mile deep well which was drilled in 2013.
Analysis by Danni Hewson, Business Correspondent at BBC Look North
Although each planning application is considered on its own merits, this is being viewed by many as a test case.
The majority of residents who form Frack Free Ryedale were deflated by the ruling, but they are are determined to follow every avenue at their disposal to stop fracking coming to Yorkshire.
Third Energy previously said they would wait to see if a legal challenge was forthcoming before pushing forward with their plans for the site.
Being out in front comes with huge responsibilities and a great deal of scrutiny.
The debate on whether this is an industry that should take a hold in the UK will continue apace, but if there is a judicial review it can't look at the bigger picture - it would be focussed on one application and viewed through the lens of planning law.
Simon Bowens, Yorkshire and Humber campaigner for Friends of the Earth, said: "Shale gas is a dirty fossil fuel and it is the responsibility of the council to require a full assessment of the impact this fracking application would have on the climate.
"They failed to do that, and this is why we believe the courts need to consider the way that this decision was arrived at by seven councillors in May."
A spokesman for Third Energy said the company had "confidence that the council followed all due processes".
NYCC said its planning committee "gave proper regard to all material planning considerations before approving the application".