Rare sheep killed in Scarborough pellet gun attack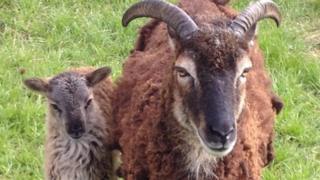 Five rare sheep have been shot, with three dying from their injuries, in a spate of pellet gun attacks.
The Soay sheep were targeted in the Throxenby and Scalby areas of Scarborough, North Yorkshire Police said.
One of the sheep killed was a young mother, with a six-week old lamb now orphaned, the force's Rural Taskforce said.
Officers are appealing for anyone with information to get in touch.
PC Tom Rollinson said the sheep, all under 18 months old, are on the Rare Breeds Survival Trust "at risk" list, because there are fewer than 1,500 breeding ewes in the country.
They were shot in a spate of attacks in July.
He said: "I am urging local residents to keep an eye out and report any suspicious activity to the police straight away."