York river barrier maintenance problems raised before flood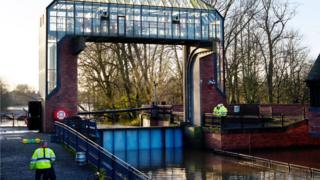 Concerns over maintaining a river barrier in York were raised two years before its failure led to widespread flooding in the city.
The Foss Barrier pumping station was given a reliability score of 59% by the Environment Agency in 2014 and 2015.
The EA said the score related to the ease of finding replacement parts not the reliability of the station itself.
Hundreds of homes were flooded in December when the barrier was raised after water entered the control room.
The Environment Agency (EA) has a target figure of 95% for reliability. In 2013, mechanical and electrical components at the pumping station were given a 99% score, but this dropped to 59% in the following two years..
In a statement, the EA said: "The 59% relates to the fact that it would have been difficult to get replacement parts and does not mean that the gate and station themselves were unreliable.
"Part of the assessment looked at the need of urgent repairs and so being able to get replacements or spares is important."
The 16.5-tonne steel flood gate was separately inspected and given scores of 88% in 2013, and 68% in 2014 and 2015.
The document, seen by the BBC, was obtained by a Freedom of Information request by York residents affected by the flooding.
One of the group, John Findlay, said "We have been badly let down."
The Foss Barrier was built in 1987 and consists of a moveable gate which is dropped into position.
As the barrier stops the flow of the River Foss, eight high-volume water pumps are used to move water around the barrier into the nearby River Ouse to maintain a steady water level.
A report into the flooding published in May said water entering the pumping station led to the decision to raise the barrier to prevent the control room flooding.
The EA is carrying out a £13m project to install more powerful pumps and is constructing a new control room. The work is expected to be completed by November 2017.