York to ban pavement advertising boards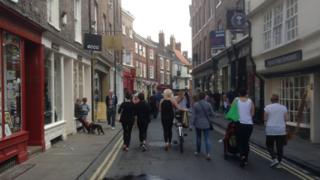 Advertising boards are to be banned from the pavements of a city centre.
A new "prohibition zone" banning boards within York's inner ring road is to be trialled for 12 months from February.
York City Council said boards on footpaths leave little "safe space" for pedestrians and create a particular problem for those with impaired mobility, wheelchair users and people with pushchairs.
York has narrow streets that follow the pattern within the medieval city walls.
The only exception to the proposed rule is on Micklegate, where businesses would need a licence to put a board on the highway.
The success of the trial is to be assessed and could be extended, the council said.