Ross Tyson's funeral held in Scarborough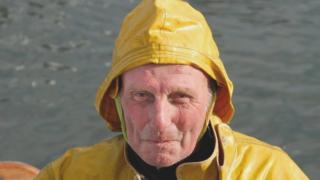 The funeral has been held of a man who volunteered to serve Scarborough's lifeboat for more than 70 years.
Ross Tyson, 84, died on 19 August. His funeral at Scarborough's St Mary's Church was attended by RNLI standard bearers and mourners.
Mr Tyson joined the lifeboat team in 1954 and became a crewman on the inshore rescue boat in 1965.
He retired as a crewman 29 years ago but continued as the team's tractor driver and, latterly, standard bearer.
His coffin was carried into the church by crew members past and present.
Mr Tyson was awarded a Queen's Diamond Jubilee medal in 2012.
John Senior, Scarborough RNLI's operations manager, said: "Ross has been part of the Scarborough lifeboat team for over seven decades and most recently acted as our indomitable standard bearer. He will be sadly missed.
"Our thoughts and prayers go out to his family and loved ones".
The RNLI, founded in 1824, operates more than 230 lifeboat stations and depends entirely on donations.