Spiked chains block York homeless man's spot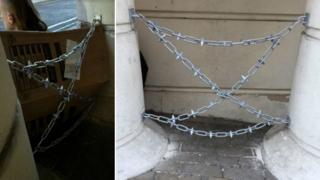 An online campaign raising funds to "change the life" of a rough sleeper who was locked out of his usual alcove has received hundreds of donations.
Lara Seamer set up a JustGiving page on Saturday after spiked chains were attached to two pillars on Fetter Lane, York, to block the gap in between.
Rob, a Polish man who is thought to have learning disabilities, has sheltered there for more than a year.
Ms Seamer, 20, said she has since had international offers of money and help.
The page, which has reached more than £3,750 in under four days, aims to find him a permanent place to stay and help him learn to read.
The chains, at the rear of Queens House, were removed on Monday morning.
Ms Seamer, who lives nearby, said she got to know Rob by regularly checking on him on her walk to the shops.
She said: "He's a lovely guy and we're hoping to find a long-term solution for him, we want to change his life."
It is thought that Rob has been in England for the last six years, according to Ms Seamer.
"He can't read, he's been trying to teach himself using empty rubbish packets," she said.
"It's had an unbelievable response, I've had about a thousand people from the UK, France and even Canada offering money, beds, sofas, tents in their gardens, caravans."
The occupants of Queens House said York City Council served a notice on Rob for "anti-social behaviour" after complaints from staff in the building and nearby residents.
Owners The Helmsley Group, managers Stapleton Waterhouse and tenants Langleys Solicitors said the man had "refused" help from local charities.
Ms Seamer said Rob sometimes did refuse help as he was "embarrassed".
She added: "I told him how much we had raised and there was a look of complete shock on his face, he actually cried."