North Yorkshire gas leak leaves 600 homes without supply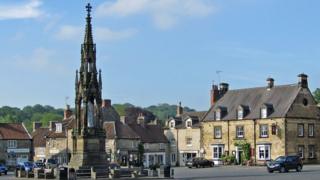 Up to 600 homes in North Yorkshire have been left without gas after a leak.
Supplies were lost in Helmsley, Nawton and Beadlam on Friday when a gas main "collapsed" during routine repair work, Northern Gas Networks said.
The company said engineers were working to fix the problem, which happened at 16:00 GMT.
It has apologised to customers and asked those unaffected in the area to use their gas "considerately to prevent any further loss of supply".
Blankets and other warm items are being handed out at the Methodist Church on Ashdale Road, Helmsley.
Ian Cooper, from the gas firm, apologised and said: "Engineers were carrying out planned routine repairs to a gas main in the area when part of the main collapsed causing a bigger escape of gas and a fall in gas pressure.
"Letters are being hand-delivered to all customers affected, notifying them that our engineers may need to access their property to isolate the service at the emergency control valve.
"We are also asking customers in the vicinity who have not lost supply to limit their own use of gas to prevent further loss of supply to themselves and their neighbours.
"This is a temporary measure until such time that our engineers can rectify the supply issues."