Crambeck A64 improvements urged by coroner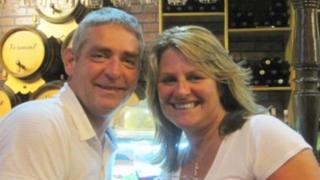 A coroner has called for safety measures for a road where two couples were killed within weeks of each other.
Julie Gough, 52, and David Tinker, 50, were killed crossing the A64 at Crambeck, North Yorkshire, in May 2017.
Charles McLaughlin, 53, and Judith McLaughlin, 58, of Welburn, North Yorkshire, died crossing the road nearby in June.
Coroner Michael Oakley said he would be writing to the Department for Transport calling for improvements.
Recording verdicts of accidental death, Mr Oakley said he would like to see improvements to lighting and for a traffic island to be installed.
Miss Gough and Mr Tinker had been on a night out in York on 13 May and caught a bus home.
They were then hit by a minibus as they crossed the road, shortly before midnight.
Mr Oakley said the minibus driver could have done nothing to avoid hitting them.
Mr Tinker's mother, Judith, said after the inquest: "I really do think something has got to be done on that A64 because it is becoming a liability."
Charles and Judith McLaughlin died crossing the road at nearby Welburn at about 23:00 BST on 23 June.
The pair died at the scene.