New memorial to WW2 bomber crew unveiled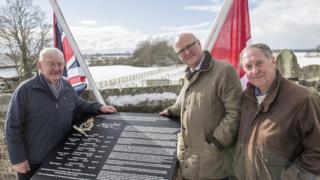 A weather-damaged memorial to seven RAF airmen killed in World War Two has been replaced.
Halifax bomber NA612 was returning to its base at RAF Dishforth in the early hours of 4 March 1945 when it was shot down by a German night fighter over Brafferton near Thirsk.
The crew of seven, six Canadian and one British airman, all died.
The community installed a stone plaque near the crash site in 2013, but it has deteriorated over the past five years.
North Yorkshire County Council's locality fund paid £500 for a new granite plaque, situated near St Peter's Church in Brafferton, bearing the names of the crew, who were aged between 19 and 27.
It is hoped the hard-wearing granite will last much longer than the original stone.
Councillor Peter Sowray said the old plaque was not a "fitting memorial" to the Canadian Royal Air Force and British Royal Air Force volunteer reserve servicemen.
Halifax NA612 was returning from a bombing raid when it was shot down as it came in to land at Dishforth. It set on fire and exploded as it hit the ground near Brafferton.