Fire service delayed by software in Whitby Magpie Cafe blaze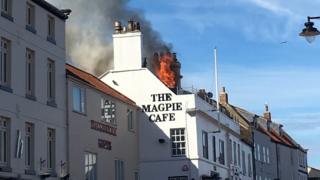 A failure of technology in a fire control room led to a seven-minute delay despatching an engine to a restaurant blaze.
The Magpie Cafe in Whitby, North Yorkshire, suffered extensive damage in the fire on 1 May 2017.
The restaurant's owners believe it was 20 to 25 minutes before a fire engine arrived at the cafe, which is less than a mile from the town's fire station.
North Yorkshire Fire said the delay was due to a "combination of issues".
'Your roof's on fire'
A fire in the fish and chip restaurant and takeaway broke out on Sunday 30 April and was put out by the fire service, however the next day, a bank holiday, the embers reignited.
Co-owner Alison McKenzie said: "At some point in the afternoon, about half-past two, somebody rang us and said 'do you know your roof's on fire?'"
Fellow owner Ian Robson joined staff attempting to fight the blaze using extinguishers, but they were overcome by smoke.
The building sustained extensive damage and did not reopen for seven months.
"The cost of actual rebuild could be roughly around the million pound mark I think," Mr Robson said.
An internal document, obtained by the BBC, explains computer software in the fire service's control room had failed and no crew was mobilised after the initial call.
The system then crashed because of the volume of calls coming in and operators were too busy to notice a crew had not been despatched.
It was seven minutes after the initial call that the fault was noticed.
Owen Heywood, from North Yorkshire Fire and Rescue Service, said: "It was a combination of issues but a particular issue with the system meant the operators who were under tremendous pressure did a fantastic job but were unable to mobilise those appliances earlier."
He said extra staff had been put into the control room since and they were working with the software manufacturer to ensure the fault was not repeated.
The Magpie's owners believe a quicker response might have reduced the extent of the damage but Mr Heywood said: "It is very difficult to tell. Clearly the earlier you get to a fire the better the outcome."
The Magpie Cafe building dates from the 18th century and has been a restaurant and takeaway since the 1930s.
The famed restaurant has been reviewed by food critics and chefs, including Jay Rayner and Rick Stein.
You can see this story in full on BBC Inside Out Yorkshire and Lincolnshire at 19:30 BST on BBC One on Monday 12 March, or via iPlayer for seven days afterwards.