Yorkshire Ambulance Service paramedic confronted woman over complaint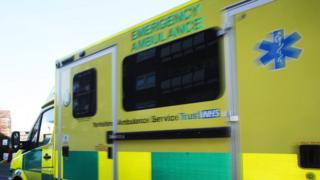 A paramedic who confronted a patient and her daughter after they complained about her "sarcastic and aggressive" behaviour has been struck off.
Sonya Wheatley approached the women in hospital after the pair complained the Yorkshire Ambulance Service (YAS) paramedic had repeatedly questioned why they had called for an ambulance.
Ms Wheatley later tried influencing a colleague's witness statement.
A health tribunal said her actions amounted to serious misconduct.
More stories from across Yorkshire
Ms Wheatley had been suspended by the Health and Care Professions Council (HCPC) for a year in relation to the incident, but at a review hearing on 9 March she was struck off.
'Loud and aggressive'
The tribunal heard Ms Wheatley, who did not attend the hearing, had been sent to the patient's address in April 2015 after her daughter had called the NHS 111 number saying her mother was in pain.
On arrival she asked the patient's daughter "at least three times" why she had called for an ambulance in a "sharp, loud and aggressive" tone.
The patient was not taken to hospital by Ms Wheatley, however, later the same day was admitted to Harrogate District Hospital.
While at hospital the panel heard Ms Wheatley had approached the women and said: "You reported me - because of you I will be suspended".
When YAS began disciplinary proceedings Ms Wheatley phoned a colleague in an effort to get him to change his statement.
She said if he failed to include certain information she would lose her job and he had "condemned her".
The tribunal ruled her failure to engage since her initial suspension showed "no evidence of remediation or insight".
The panel said Ms Wheatley had not provided any proof she was "capable of returning to safe and effective practice as a paramedic".
Yorkshire Ambulance Service NHS Trust confirmed that Sonya Wheatley no longer works for the trust.